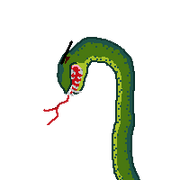 The pythons are so far, only known to live in the desert and they are monsters you couldn't find in Terraria.
The first appearance was in Comic #44 in Cyril's dream/nightmare.
If the dream was true and memory, it seems that his parents replaced him with a zombie and abandoned him in the python-desert, as is called in the Mother's day cartoon.
A desert python also appears in the "new website special" comic.
"Enjoy the desert son! Also, there are pythons."
-Cyril's Dad