If you see ads, go here and there is a possible fix for it
Contact Admin (@Rosenblack) for technical issues or problems
This is the official wiki of the comic The Legend Of Maxx. You can find all sort of information about it here. Feel free to help grow the wiki by adding or editing pages.

What is The Legend of Maxx?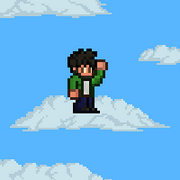 The Legend of Maxx is a sprite comic and it chronicles the life of Maxx, the player character of a game of Terraria, and the various shenanigans and existential crisis that he and his guide get to experience. On January 2, 2016, an announcement was made on the official website, saying that the series has been discontinued :( . On August 20, 2016, the announcement was removed. On November 11, 2016, a new comic was posted, leading many to hope the comic would continue. Then, on November 19, 2016, another comic was posted, and Jesse confirmed in the desc that the comic WAS back.

Latest activity
[
]